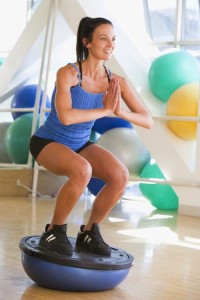 Legs day is a workout routine that concentrates on strengthening your leg muscles. It helps lift your butt, smooth out your legs, and make them stronger……BUT…..you cannot forget about the cardio part. This is what will actually melt the fat, making all of that hard work noticeable in short skirts & bikinis. Have fun!
Workout: Flipped bosu squats, 20 squat jumps, side lunges, 15 squat jumps, pop overs (or pop squats if you don't have the bosu), 10 squat jumps, 1 legged deadlifts, 5 jump squats. Complete each exercise for 2 sets resting just 15-30 seconds in between each set. After each exercise, complete the recommended number of squat jumps.
Equipment: Mat, medium weight or medicine ball, Bosu ball (but is not needed)
Level: Beginner, Intermediate, & Advanced
Time: 10 minutes
Cardio: Before doing this workout, complete a 10 minute cardio routine that consisted of jogging for 1 minute & sprinting for 1 minute. Then repeated when I was finished with the legs routine.