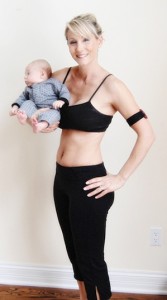 Hi y'all.  I am back!  I was given the okay to start working out again after having my baby.  It has been 6 weeks of pure joy with our new little angel.  We are finally on a good schedule/routine and my doc has given me the permission to get back to working out.  Even though I enjoyed the 6 week break, I was more than excited to get back into working out.  I have about 15 lbs left to lose, so I am on a mission!  I just have to be careful not to push it too much.
If you are looking to lose some weight (baby weight or not), join me with these fun, at-home workouts.  Obviously, having a new baby makes it very hard to get to the gym.  All the more reason to do my at home workouts!!!  Some days I will be able to post a video along with the workout, other days I will simply post the workout I do without an attached video.
This is what I did today:
10 minute Run outside (beautiful day here)
5 minute power walk
5 minute jog
5 minute power walk
Then I completed two sets of 15 of each of these exercises:
Pushups (started out on toes and had to drop to my knees)
Bosu Side Squats (if you don't have a Bosu, do these on a hard surface)
Shoulder Presses
Reverse lunge with knee lift
Side Plank (on elbow) with pulses
Plie Squats
Bicep Curls with dumbbells
Tricep Overhead extensions
Then, I rode my stationary bike for another 20 minutes. This workout took me about 1 hour and 10 minutes to complete. My little one was down for a nap, which allowed me to get the workout completed.
Facebook Comments
comments