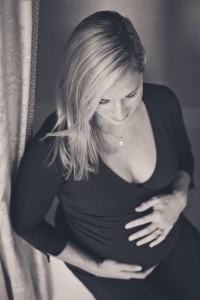 Hard to believe I am now 39 weeks pregnant.  Only 1 week to go and then I will be a mom!  I am not sure if y'all have noticed, but I have not posted any new workout videos online in a few months.  Not because I haven't been working out religiously, but because I have been incredibly busy trying to "nest" for the little one, getting my last few travels in, resting, working out and well, lets face it……the camera adds an extra 10 lbs!  On top of the 30 lbs that I have gained, that is just not pretty for me to look at.  Anyway, I am writing to all of you BarBellies out there to let you know that even at 39 weeks pregnant, when you probably feel HUGE, there is a way to look and mentally feel better.  I contribute that to eating healthy (actually healthier than when I wasn't pregnant) and exercising every single day whether it is walking my dog, lifting weights, or taking spinning class.
This morning while eating breakfast, my husband praised me on how well he thought I was doing with the whole pregnancy.  I think he expected a 39 week pregnant woman to be bitchy and moody and lazy.  Not this preggo!  I have made a very solid effort to be upbeat, energetic, and happy.  Like I said before, I think it has to do with the way I eat and the exercise that I partake in daily.
I have completely cut out ALL artificial sweeteners.  They are not good for me and definitely not good for a growing baby.  I make it a point to eat 2 servings of fruit and 2-3 servings of veggies each day.  As well as drink milk, eat yogurt, whole wheat grains, lean protein, and I try to limit my sugar intake.  Although…….sugar has been my weakness throughout these 39 weeks.  I crave things like chocolate milk, fruits, and fruity cereals.  O-well, I guess it could be worse.
Exercise to me is the most important during pregnancy.  Obviously, do what your doctor says and don't go by what I am doing.  But, I honestly believe that exercise has helped tire me out throughout the day, which helps me sleep well at night.  I have not had too much trouble sleeping, which I am very thankful for.  Exercise also helps keep my body tight and keeps my lower back strong.  My legs are still muscular, my arms still showing some bicep and tricep, and my shoulders are still strong.  The spinning and weights that I am still doing, really make me feel "normal".  These exercises help me most mentally, and physically too (especially later down the road to recovery).
So, with all that being said, I just wanted to share with you some of my experience up until now.  I feel great!  And like I said before, I contribute it all to being healthy from the start.  If you are thinking about getting pregnant or trying to get pregnant, I recommend getting into the best shape you can possibly get into.  It will not only help you during your pregnancy, it is supposed to help shed the LBS after pregnancy.  I'll keep you posted on the later part!  I am going to be doing a "fitness LB challenge" during the first of the year to help myself and anyone else out there wanting to shed some weight.  So, if you are looking for someone to workout with, a new kind of resolution, or just want to get rid of some weight before swim suit season, join me in my adventure of weight loss.
**Photo taken by Juliet Elizabeth Photography.  Check out her site at http://www.julietelizabeth.com/
Facebook Comments
comments