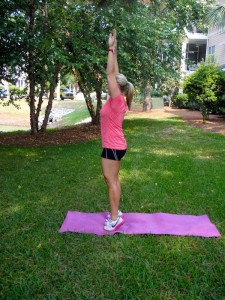 Want the results of a runner but don't want to run? We all know that running is one of the best ways to burn calories and shed fat but lets face it, sometimes running can be a bit boring. Instead of doing the same old running routine, switch it up and go to your backyard for this backyard buffer. It will burn about the same amount of calories in the same amount of time as running would. Make it more fun…..grab a partner or your dog!
Make sure you have a step or a stone or chair or bench for these exercises.

Run around your backyard doing 2-5 laps
Using your step, complete 15 step ups on each leg. Make it more advanced by giving each step a little hop at the top
20 Arm Dips
20 Step Jumps (jump onto the step like you are doing a box jump)
20 Pushups
1 minute of jump Rope
10 Burpees
1 minute of Jumping Jacks
15 pop squats
1 minute of high knees
15 decline pushups (put your feet onto the step and get into pushup position)
15 each side Step Ups
25 Plie Squats
15 Star Jumps
25 Flat Leg situps
10 Burpees
15 (each side) Plank position knee to elbow twists
10 Frog Jumps
Run around your backyard doing 2-5 laps

**If you're feeling great, REPEAT!
Added Bonus:
If you have a swing set, use your swing to put your feet into and do an Ab pull by bringing your knees into your chest.
Have Monkey Bars? Hold your feet up off the ground and give them a go! You will have a blast pretending to be a kid again.