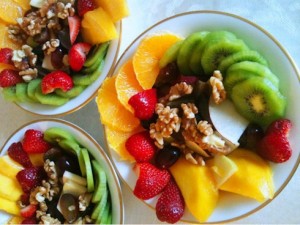 I was looking through some of my notes from a class I took at a Wellness convention. I thought I would share some of these statistics with y'all. They are very interesting and something that we should ALL think about!
3 trips to a fast food restaurant/week can cost you ~$1000.00 per year!
1 12 pack of beer/week can cost you ~$600.00 per year
1 pack of cigs a day will cost you ~ $1300/year
1 in 50 people are 100 lbs overweight (this study was taken in 2008!) Imagine what it is today, 4 years later.
Obestiy is about to surpass smoking as the number 1 killer in America
1/3 of American's have hypertension (high blood pressure)
DId you know that Starbucks spends more on health care costs for their employees than they do on coffee? Great company to work for!
Less than 3% of Americans engage in ALL of the 4 most basic strategies for healthy living: Smoking, Healthy Weight, Eating 5 or more fruits & veggies/ day, Exercising regularly
Schools are one of the largest junk food source for our children
1/3 of all US born kids born in 2000 will have type 2 diabetes in their lifetime!
60% of overweight children 5-10 years old have 1 cardio vascular risk and 20% of children have 2 or more risks
Canola oil is good with heat, so use it for cooking. Olive oil is not so good with heat, so use it for cold dishes.
Facebook Comments
comments