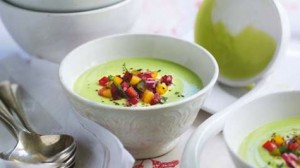 Who doesn't love soup? Hot soup, cold soup, warm soup, sweet soup, salty soup, just soup. Soup can be very filling and satisfying and full of veggies and yes, even fruits. I am going to share with you one of my favorite summer time soups. You can serve it cold or room temperature…..whatever you prefer.
Ingredients:
1 yellow squash, chop coarsely
1 zucchini, chop coarsely
1 small onion, chopped
1 red pepper, chop coarsely and de-seed
1 can corn or 3 corn on the cob
4 roma tomatoes, diced
1 handfull of cilantro
2 Tbsp salt
1 Tbsp garlic
3 cerano chilies, seeded and chopped
1 avocado, diced
1 lime, juiced
1 tsp pepper
4 Tbsp fat free sour cream or plain greek yogurt
Add all of the above ingredients together and stir. Mixture will be chunky and full of veggies. Then you will puree:
3 (4 if you want it to be creamier) avocados and 6 cups of ice cold water in a cuisinart. Once that is pureed, add the soupy mixture to the veggies and whisk together. Top with a small dollop of sour cream. If you like your soup to be extra cold, chill in the fridge for an hour. This soup is really easy to make and you can make it your own. For instance, if you like your soup to be more tomato-y…..add more roma tomatoes. If you don't like red pepper, add a yellow pepper or no pepper. If you don't like spice, don't use the chilies. Well, you get the idea. Be creative and make it your own!!