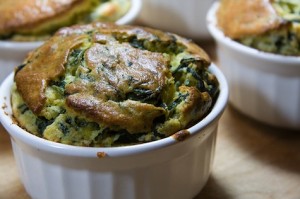 Souffle's are often a little harder to make than most dishes, however, this souffle is totally worth the wait because it is delicious!  AND…..it is only about 150 calories and 5 grams of fat per serving and has a whopping 10 grams of protein.  Put your chef skills to work and get cookin!  You can enjoy this souffle for breakfast, lunch, dinner, or even an appetizer if you are having a dinner party.
Ingredients:
2 Tbsp Smart Balance Omega Plus Buttery Spread
1 cup onions, chopped
3 tablespoons bread crumbs
10 ounces spinach, well washed, tough stems removed
3 tablespoons all-purpose flour
1 1/2 cups skim milk
1/2 teaspoon salt
1/4 teaspoon freshly ground pepper
2 whole large eggs, separated
1 cup freshly grated Parmesan cheese (2 ounces)
1 cup fresh mushrooms, chopped
2 large egg whites
Pinch cream of tartar
Cooking spray
Prep:
Preheat oven to 400 degrees. Position rack in the center of the oven. Coat a 2-quart souffle dish or 6 individual (8-ounce) dishes with cooking spray. Sprinkle bottoms with bread crumbs.
Fill a bowl with ice and water; set aside. Place a steamer basket in a large saucepan; fill with 1 inch of water. Bring to a boil, and add the spinach. Cover, and steam until wilted, about 3 minutes. Drain, and plunge into ice bath to stop cooking. Let cool, and squeeze out excess water. Finely chop spinach in food processor.
Melt 1 Tbsp smart balance butter in a small skillet over medium heat. Add onions and cook until tender. Set aside. Melt 1 Tbsp smart balance butter in small sauce pan. Whisk in flour, and cook, stirring constantly, for 3 minutes. Gradually whisk in the milk, and bring just to a simmer. Cook, stirring constantly, until slightly thickened. Stir in salt and pepper. Remove from heat, and set aside.
In a large bowl, whisk 2 egg yolks until blended. Whisk in a little white sauce to temper the eggs, then add the remaining sauce, whisking until combined. Add the cooked spinach, mushrooms, and grated cheese.
Place the 4 egg whites and cream of tartar in the bowl of an electric mixer fitted with the whisk attachment. Beat on low until soft peaks begin to form. Increase speed to high.
Using a rubber spatula, transfer one- third of egg whites to spinach mixture and gently fold in until blended. Add spinach mixture to remaining egg whites and gently fold in until combined. Pour into prepared dish or dishes.
Place souffle in oven, and reduce heat to 375 degrees. Bake until puffed for about 20 to 30 minutes. Serve. Enjoy!