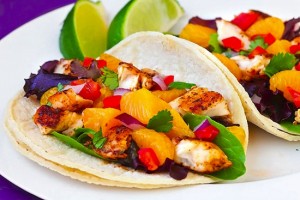 Sugar and spice and everything nice! That is exactly what these Jalapeno Mango tacos are…….nice! The salsa takes about 10 minutes to make and the fish takes about 6 minutes to cook. 15 minutes or less and you have a healthy restaurant ready dinner.
Ingredients:
1 ripe mango, peeled & diced (about 1 1/2 cup)
1/2 avocado, diced
1/2 medium red onion, finely chopped
1 Jalapeño chile, minced (include ribs and seeds for a hotter taste if desired)
1 small cucumber, peeled and diced (about 1 cup)
3 Tbsp fresh cilantro leaves, chopped
3 Tbsp fresh lime juice
Salt and pepper to taste
8 low carb tortillas
Prep:
Combine all of the ingredients in a bowl. Season to taste with salt and pepper.
Fish Prep:
1 lb of grouper, tilapia, or any mild white fish
1 Tbsp olive oil
1 tsp blackening seasoning (no salt added if you can find)
1 tsp paprika
Rub fish with seasoning and pour 1 Tbsp of olive oil into skillet. Place into skillet on medium heat. Cook for about 3-4 minutes on each side until white and flaky in the center. Cut fish up and place into a bowl.
Heat tortillas for 10 seconds in microwave.
Place 1/4 cup fish into tortilla. Top with mango salsa. Enjoy! Serving size 2 tortillas.