Oven Roasted Chicken 3 ways:
Who doesn't love a good fresh chicken sandwich or salad for lunch on a hot summer day? It is light and fresh and perfect to take anywhere. Pack one in your lunch box and have a healthy, yet delicious chicken sandwich/salad that is NOT processed (who likes those nasty packets of meat anyway??). They are full of chemicals and fillers and other stuff that we probably don't even know about. Instead, make your own chicken. It takes no time at all……just a little preparation the night before.
First off, you will have to bake your whole chicken. I know this probably sounds scary to most of you but it really is very easy. I like to use the Smart Chicken brand for my whole chicken. It comes gizzard free, and well, that is just a HUGE plus to me. I will pay extra to not have to fish out those nasty chicken guts! Gross!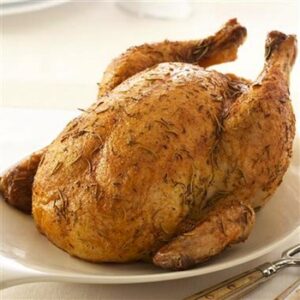 1 whole chicken (smart chicken)
2 Tbsp garlic or 4 fresh garlic cloves, chopped
2 Tbsp Italian seasoning
1 Tbsp Tony's seasoning (salt free)
2 Tbsp olive oil
Preheat oven to 350. Rub down your chicken (inside and out) with the above ingredients. Place the chicken into a large cooking pot so that the breasts are facing up. Cook the chicken with the lid on for 45 minutes. Take the lid off and continue to cook for another 45 minutes (for a 3 1/2 lb chicken). Let the chicken sit in the oven for an additional 30 minutes so that he can rest. You can get a little nap in too
) After that, pull the chicken out of the oven and let it cool down before you start handling it. Then, you can either slice off the meat you would like to use or you can pull off the meat. I personally think that pulling the meat is much, much easier.
Once you have the chicken all pulled off, then you can start making lunches for the week.  Serve with a half cup of fresh fruit and you have a healthy lunch!  Enjoy.
Rosemary Chicken salad with toasted pecans and grapes
3 cups chicken
1 1/2 (use only 1 cup if you don't like real creamy chicken salad) cups fat free Greek yogurt, plain
1 cup sliced purple grapes
1/4 cup chopped spicy pecans
1 Tbsp dried rosemary
1 tsp celery salt
1 cup spinach
1 tomato, sliced
8 slices whole wheat bread
Mix first 5 ingredients together and place into a tupperware container. Each morning before work take about 1 cup of the chicken mixture and place on top of one slice of bread. Top with a few spinach leaves and a slice of tomato and top with the other slice of bread. Makes 5 sammies.
Chicken, Apple, Blue Cheese/Goat Cheese Spinach Salad
3 cups chicken
1 granny smith apple, sliced into 1/2 inch slices
6 cups baby spinach
1/2 cup goat cheese/1/4 cup blue cheese
6 Tbsp slivered almonds
Dressing:
Mix 1 cup apple cider vinegar, 1/2 cup dijon mustard, ½ cup truvia. Shake until well-blended.  Pour over salad!
Fiesta Chicken Wrap
3 cups chicken
1/2 avocado, sliced
1 cup black beans
1/2 cup sliced tomatoes OR 1/2 cup chunky salsa (makes it a little messier)
1/2 cup reduced fat mexican cheese
4 spinach Flat Outs (these are a thin low cal wrap found in the bread area….usually on a rack next to the bread)
Layer flat out with chicken, 2-3 avocado slices, 1/4 cup beans, 2 Tbsp salsa or tomatoes, and sprinkle with Mexican cheese. If you have a microwave handy or a little toaster oven, this wrap is good heated up too. Serves 4 lunches.