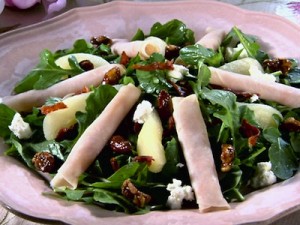 With the weather starting to warm up a bit, we are all trying to get our bodies ready for those bikinis.  Try this fresh, healthy mixed green salad for a light, yet satisfying lunch.  It is a great way to get fruits, veggies, lean protein, and healthy fats into one meal.
Ingredients:
2 Tbsp cider vinegar
2 Tbsp water
1 tsp olive oil
1/2 tsp white pepper
2 cups smoked turkey breast (fresh turkey is best)
1 cup red grapes, halved
1/2 cup celery, chopped
2 large bartlett pears, thinly sliced
4 cups mixed greens
1/4 cup crumbled goat cheese, reduced fat
2 Tbsp walnuts, chopped
Preparation:
Combine first four ingredients into a large bowl and stir with a whisk.  Add turkey, grapes, celery, and pears to the dressing and toss to coat.  Arrange 2 cups of mixed greens into two separate tupperware containers (or plate) and divide pear mixture evenly over greens.  Sprinkle each with 1 Tbsp cheese and 1 Tbsp walnuts.  Serves 2.