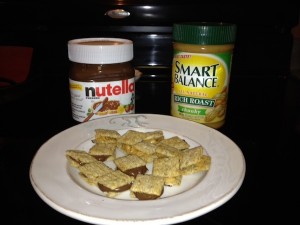 Try these delicious, bite-sized triscuit sandwiches. Perfect for an after school snack, pick me up during your work day (morning or afternoon), or right before a workout. They are about 200 calories for 14 sandwiches. Not too shabby considering they are so tasty and have whole grains and protein.
28 mini (bite sized) triscuits
peanut butter (all natural), nutella, or almond butter
Smear some of the butter onto one side of a triscuit and then sandwich with a plain triscuit. Do this to make 14 sammies. Enjoy!