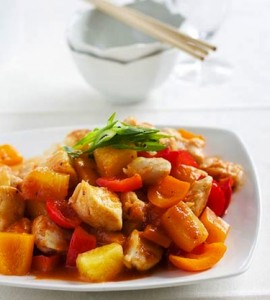 Yes!  You can eat Chinese food…..just not from the restaurants.  Restaurants load their food down with fat, salt, msg, and calorie laden heavy meals.  Instead of wasting your money on a meal that is going to weigh you down and make you feel gross, try these two simple dishes that the whole family will love!
Egg Drop Soup:
Ingredients:
4 cups low sodium chicken broth
1 Tbsp soy sauce, reduced sodium
1 thin slice of ginger
3 large eggs, beaten
2 Tbsp scallions, sliced
Prep:
Combine the broth, soy suace, and ginger in a medium pan and bring to a boil. Reduce heat to a simmer. Ladle the beaten eggs 1/4 cup at a time into the simmering broth but DO NOT stir. The eggs will rise to the surface. Let cook for about a minute. Serve the broth and egg portion into four bowls and top with scallions.
Sweet & Sour Chicken with brown rice:
Ingredients:
2 cups instant brown rice
1/4 cup seasoned rice vinegar
2 tablespoons reduced-sodium soy sauce
2 tablespoons cornstarch
2 tablespoons apricot preserves
2 tablespoons olive oil, divided
1 pound chicken tenders, cut in 1 inch pieces
4 cloves fresh garlic, minced
2 teaspoons finely grated ginger
1 cup reduced-sodium chicken broth
6 cups bite-size pieces of vegetables……I like broccoli and red & yellow bell peppers
Prep:
Cook rice according to the package directions. While rice is cooking, whisk together vinegar, soy sauce, cornstarch and apricot preserves in a small bowl. Set aside. Heat 1 tablespoon oil in a large skillet over medium-high heat. Add chicken and cook for about 2 minutes. Continue cooking, until no longer pink on the outside and just starting to brown in spots, about 2 minutes more. Remove from heat when finished cooking.
Add the remaining 1 tablespoon oil, garlic and ginger to the pan and cook, stirring, until fragrant, 20 to 30 seconds. Add broth and bring to a boil, stirring constantly. Add vegetables, reduce heat to a simmer, cover and cook until the vegetables are tender-crisp, 4 to 6 minutes. Stir in chicken. Whisk the reserved sauce and add to the pan. Simmer, stirring constantly, until the sauce is thickened and the chicken is heated through, about 1 minute. Serve with the rice. Enjoy!