I love tomatoes.  I could eat them like apples.  Actually, I do eat them like apples.  So when my mom gave me this delicious tomato soup recipe, I decided to make it for dinner and boy was it tasty.  I loved the fact that it is heart healthy and very easy to make and requires little ingredients, making it nice on your wallet.  Try it as an appetizer or pair it with one of my salads for a meal.  Hope you enjoy it as much as I do.  We can all thank spyemom for the recipe
)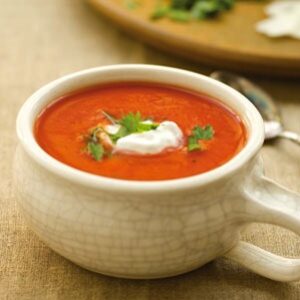 MOMMA'S SUMMER TOMATO SOUP
Ingredients:
1 Tbsp extra virgin Olive oil
1 yellow onion, diced
2 garlic cloves, minced
1/4 c. dry vermouth
2 lb. Johns Islands tomatoes, peeled, seeded and chopped
2 Tbsp tomato paste
4 cups chicken broth, low sodium
2 Tbsp parsley
2 Tbsp chives
1 tsp tarragon
Pepper, to taste
Greek yogurt, plain
fresh basil leaves
Prep:
Over medium high heat warm oil.  Add onion and garlic and cook stirring occasionally until tender-about 10 min. Add vermouth, chopped tomatoes and tomato paste and cook about 10-15 min stirring occasionally. Add broth and bring to a boil. Reduce heat to low and simmer for 20 min. Put tomato part in blender or cuisinart and chop but don't puree; add the spices and pepper right before serving and stir well. Top the soup with a dollop of greek yogurt and two sprigs of fresh basil.  You can serve this soup hot or cold (for those hot, hot summer days).