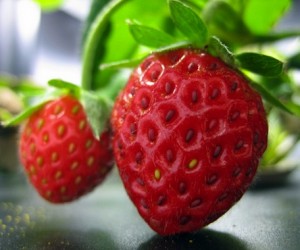 Strawberries are one of my super foods and they are PACKED with excellent nutritional benefits. Not only are these red, delicious little fruits shaped like hearts, they are also extremely healthy for your heart. They can help do things like increase your LDL's (good cholesterol), help with your digestive system, lower blood pressure, and also ward off certain cancers.
Here are some reasons that strawberries are up there on my top ten list of super foods. They are packed with tons of fiber, vitamins, and antioxidants that help ward off cancer. The best part about this fruit is that they are fat free, cholesterol free, sodium free, and low calorie!   Also, did you know that just 8 strawberries provide more vitamin C than an orange?!
You can indulge in these little fruits in so many different ways from breakfast, to a main course, to dessert. Here are a few of my favorite ways to incorporate strawberries into my diet.
Strawberry Fields Salad
4 cups Field Greens (baby spinach, arugula)
2 cup strawberries, sliced
1/4 cup pecans, halved
2 oz goat cheese, reduced fat
1/4 cup purple onion
Dressing:
2 Tbsp balsamic vinegar
1 Tbsp olive oil
1 Tbsp dijon mustard
1 packet splenda or truvia
Serves 4
Strawberry Soup
1 quart of strawberries, washed and cut
1/4 cup frozen OJ concentrate, thawed
1/3 cup white wine- should use a dessert wine and a good one, not cheap because this dish is not heated
1/2 cup greek yogurt-plain
1/8 tsp kosher salt
1/4 tsp ground black pepper
6 fresh mint leaves, washed and sliced
Puree strawberries in blender with OJ and wine until smooth. Add the yogurt, salt, and pepper and puree until completely blended. Chill in fridge for about 30 minutes. Taste the soup once chilled and sometimes it might need a little bit of extra sugar depending on how sweet your berries are. If it is not sweet enough, add 1 tsp of sugar and try again. Remember not to go overboard with the sugar. Serve with a garnish of mint leaves. Makes 4 servings and is about 135 calories per serving.
Strawberry Milk Shake
2 cups fresh strawberries
1/3 cup skim milk
1 pint lowfat vanilla ice cream (i like to use the Edy's slow churned/no sugar added)
Wash berries. Cut off top of berries and slice. Add your berries to the blender and add milk. Puree. Add the ice cream and puree until thick and smooth. Serves 3 and is about 175 calories for the milkshake.
AND…. this time of year, you can go pick your own strawberries in Mount Pleasant or Johns Island.  What a great way to get your family involved in a fun, healthy adventure.