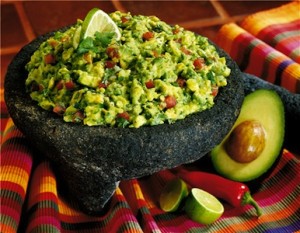 Ahhhh……my favorite party to throw, cinco de mayo. Not only do I absolutely LOVE Mexican food, but I also LOVE that it can be healthy and easy to make. I am going to give you a full days worth of Mexican dish ideas from breakfast to dinner. These meals are all so delicious and hard to tell that they are low fat/calorie. Try making lunch and dinner a day ahead of time and you won't have much preparation time at all come Thursday. Then, you will be able to sit down and enjoy yourself and celebrate with friends and family, healthy-style.
Breakfast: Crispy, Cheesy Tostada
Ingredients:
1 egg, 1 eggwhite
1 crispy flat tostada
2 Tbsp reduced fat Mexican cheese
1 Tbsp Greek yogurt, plain
1 Tbsp salsa
1/3 cup morning star farms sausage
1 laughing cow cheese, queso fresco & chipotle
Prep:
Scramble egg and egg white in small skillet. While the eggs are cooking, microwave the sausage for 45 minutes on microwave safe plate. Add sausage and laughing cow cheese to eggs. Top tostada with egg mixture. Then, top eggs with greek yogurt, cheese, and salsa. Enjoy.
Lunch:  Spicy Bean Burrito
Ingredients:
1 tsp garlic
1/2 chili powder
1/3 cup water
1 can fat free refried beans, spicy
3 Tbsp salsa
1/2 cup mexican cheese, reduced fat
1 8 oz container plain greek yogurt
10 cherry tomatoes, halved
4 low carb/light tortillas (approx. 80-100 calories per tortilla)
Prep:
Heat garlic in skillet for about 2-3 minutes on medium heat. Add chili powder to garlic. Add one can refried beans to skillet and stir. Add 1/3 cup water to the beans and stir until the water is completely mixed in. Then, add 3 Tbsp salsa and stir. Lightly stir in 3 Tbsp of greek yogurt so that it is just slightly mixed throughout bean mixture. Top each tortilla with about 3/4 cup of beans, 1 tbsp of greek yogurt, 2 Tbsp mexican cheese, and 4-6 slices of tomato. Wrap it up and enjoy your quick and easy bean burrito.
Pre-Dinner Appetizer: Healthy Chunky Guacamole
2 ripe avocados, pitted and smashed
1/2 red onion, minced (about 1/2 cup)
1-2 serrano chiles, stems and seeds removed, minced
2 tablespoons cilantro leaves, finely chopped
1/2 teaspoon coarse salt
A dash of freshly grated black pepper
1/2 ripe tomato, seeds and pulp removed, chopped
Prep:
Mix all ingredients together with a fork so that you smash the avocado with the other ingredients. Serve with whole grain tortilla chips, or baked tortilla chips.
Dinner: Mexican Minestrone
Ingredients:
8 oz while wheat angel hair pasta, broken into 2 inch sticks
1 lb of flank steak or 1 lb 94% lean ground beef
1 packet of taco mix (look for one that doesn't contain Monosodium glutimate-MSG)
1 small onion, diced
2 tsp garlic, minced
1 Tbsp fresh basil, chopped
6 cups low sodium beef broth
1 can Mexican style corn
1 (10 oz) can tomatoes, diced
1 small can diced green chiles
2 tsp cumin
1/2 tsp cayenne pepper
1 (15 oz) can kidney beans, drained and rinsed
2 yellow squash, chopped
1 bag baby spinach, fresh
3/4 cup parmesan cheese
Prep:
Spread out uncooked pasta onto baking sheet and bake at 350 for 8 minutes or until lightly browned. Cut beef into cubes and coat with seasoning mix. Cook beef and onion in large pot over medium heat. Add garlic and saute for one minute. Stir in basil, cumin, and cayenne pepper and cook for another 1 minute. Add toasted pasta, corn, broth, tomatoes, beans, and squash to the pot. Bring mixture to a boil over medium-high heat. Reduce heat to low and continue to cook for another 10 minutes or until pasta is tender. Stir in spinach. Sprinkle each serving with parmesan cheese.
Cocktail: Skinny Margarita
Ingredients:
2 oz silver Tequila
2 oz crystal light lemonade OR Sierra Mist Free
Splash triple sec
1/2 freshly squeezed lime
Prep:
Shake together over rocks and chill before serving.
Happy Cinco De Mayo!