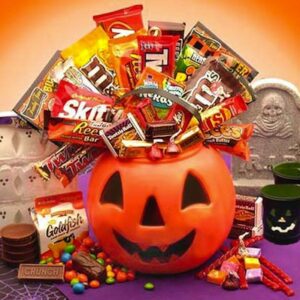 The appearance of ghosts and goblins can only mean one thing….. Halloween is right around the corner.  Parties, trick or treating, and other food initiated events are in the air.  With obesity rates on the rise, it is so important to not only offer your evening knockers a healthy alternative, it is also important to offer your party-goers healthy options.  Unfortunately, the traditional Halloween candy is loads of calories, high amounts of sugar, and tons of fat hidden in those bite sized treats.  I am going to give you some ideas of what to offer your trick or treaters in place of those traditional Halloween snacks.
How many bite-sized candy bars/bags equal the normal size?
Candy Corn: 24 pieces have 167 calories, 0g fat; 6 pieces have 42 calories, 0g fat
Baby Ruth: Regular size has 165 calories, 7g fat; fun size has 68 calories, 3g fat
Snickers: Regular size has 273 calories, 14g fat; fun size has 72 calories, 4g fat
Regular M & M's: Regular bag has 210 calories, 10g fat; fun size has 50 calories, 4g fat
Tootsie Roll: Bar has 230 calories, 5g fat; 3 minis have 70 calories, 1.5g fat
Kit Kat: Regular size has 217 calories, 11g fat; fun size has 51 calories, 3g fat
Skittles: Regular bag has 180 calories, 2g fat; fun size has 60 calories, 0g fat
Healthy Goodies for Little Ghosts & Goblins:
mini rice crispy treats
trail mix/nut packs
100 calorie snack packs
gold fish (all flavors)
cereal bars
raisins
lemon head/red hots
dried fruit
vanilla wafer snacks
pretzels
graham cracker snack packs
finger puppets
stickers
bubbles
bouncy balls
spider rings/toys
halloween pens/pencils
sugar free gum
fruit roll ups
cheese/cracker packs
tootsie rolls
smarties
twizzlers
junior mints
peppermint patties
Healthy Apps for Big Ghosts & Goblins at your Halloween Party:
5 Fingers Dip:
Mix your favorite hummus or vegetable dip into a tall bowl.  Wash & Peel 4 long carrots, 1 medium carrot.  With a paring knife, cut a flat, shallow notch in the tip of each carrot.  Then use a dab of dip/hummus and glue a sliced-almond fingernail to each notch.  Stick the fingers in the dip, and serve with peeled baby carrots for dipping.
Pizza Mummy Face:
whole wheat English muffins
Pizza sauce, all natural
Black olives, sliced
red & green peppers, chopped
Low fat mozzarella cheese stick
Heat the oven to 350º F. For each mummy, spread a tablespoon of pizza sauce onto half of an English muffin. Set olive slices in place for eyes and add round slices red or green pepper for pupils. Lay strips of cheese (we used a pulled-apart cheese stick) across the muffin for the mummy's wrappings. Bake for about 10 minutes or until the cheese is melted and the muffin is toasty.