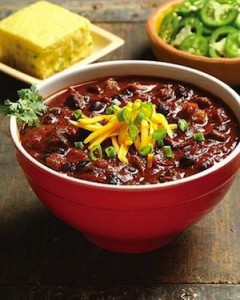 Who doesn't love chili on a cool fall day while watching some football?  Hot, cold, spicy, mild, with beer, with chocolate, white chili, chili with beans, chili with meat, and chili on turkey dogs.  There are so many ways to create chili and so many ways to eat chili.  I am going to give you two of my favorite chili recipes.  One spicy, one mild (made with chocolate!).  Get out your crock pot or dutch oven and get ready for some football!
Chili (mild):
Ingredients:
1 lb ground sirloin (92/8 or 96/4)
1 onion, diced
3 cloves garlic, minced
2 15 oz cans kidney beans, rinsed & drained
2 8 oz cans diced tomatoes, no salt added
2 10 oz cans low sodium chicken broth
1/2 tsp pepper
1 tsp chili powder
1/2 tsp cumin
1/8 tsp cayenne pepper
1/8 tsp cinnamon
1 oz very dark chocolate
Saute onions and garlic in cooking spray. Place beef (crush meat), onions, garlic and rest of ingredients into dutch oven or crock pot and cook on low heat for 2 hours. Enjoy!
Chili with a kick:
Ingredients:
1 medium onions, chopped
1 tablespoons vegetable oil
1 cloves garlic, finely chopped
1/2 hot chile pepper – jalapeno, serrano, or habanero, seeded and minced
1/2 teaspoon ground cumin
2 Tbsp mild chili powder
1 1/2 pounds coarsely ground sirloin (92/8 or 96/4) or ground turkey breast
1/2 teaspoons dried oregano
1 can (14.5 ounces) diced tomatoes with juice, low sodium
2 cups chicken/beef broth, low sodium
1/2 teaspoon ground cayenne
1 cup (15 ounces) pinto beans, drained and rinsed
2 Tbsp dark beer
1/2 small can sliced jalapeno peppers
Preparation:
In a large Dutch oven/crock pot, saute the onions over medium heat. Add the garlic, minced chile peppers, and ground cumin. Cook, stirring often, for about 2 minutes. Add the chili powder and cook for another minute, stirring constantly.
Add the ground beef, oregano and the rest of the ingredients and bring to a boil. Stirring frequently. Simmer on low, uncovered, for another 1-2 hours or until ready to eat.
Top each serving with low fat shredded cheese, a teaspoon of greek yogurt (plain) or low fat sour cream, and green onions.