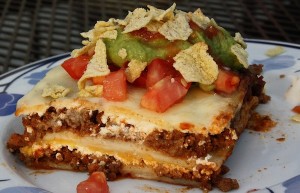 In the mood for some Mexican? This dish has a little kick to it and is one that I will make over and over again. Delicious!
INGREDIENTS
1 pound lean ground beef (96/4)
1 large onion, chopped
2 1/2 cups mild salsa (I love the fresh pureed salsa from Trader Joes)….use medium if you like it hot
1 can (15 ounces) black beans, rinsed and drained
1/4 cup enchilada sauce
2 tablespoons reduced-sodium taco seasoning (Ortega has no MSG)
1/4 teaspoon ground cumin
9 flour tortillas (8 inches), cut into squares
1 small can of drained corn
3/4 cup plain greek yogurt
2 cups shredded Mexican cheese blend, reduced fat
1 bag shredded lettuce
1 medium tomato, chopped
1/4 cup minced fresh cilantro
PREP
In a large skillet, cook beef and onion over medium heat until meat is no longer pink. Stir in the salsa, beans, corn, enchilada sauce, greek yogurt, taco seasoning, and cumin. Cut tortillas and place on bottom of 9×13 baking casserole dish. Spoon a generous layer of meat mixture on top of tortillas and sprinkle with 1/2 cup cheese.
Place a flour or corn tortilla on top of cheese. Repeat layers. The last & final layer should be layered with cheese.
Bake at 400° for 20 minutes. Let stand for 5 minutes before topping with lettuce, tomato and cilantro.
8 servings.
Facebook Comments
comments