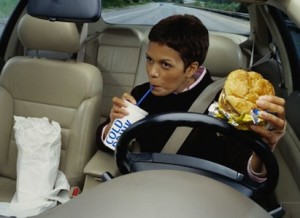 Eating on the road is often a hard thing to do. So many temptations, large portion sizes, and lack of healthy options make it next to impossible to enjoy a "fit" meal. As many of you know, my husband and I just drove back to Charleston, SC from Jackson Hole, WY. It consisted of 2205 miles, 35 hours, and 6 meals on the road (plus another 8 when we drove out to Jackson). Needless to say, it was a very long, sedentary drive but we did it thanks to iTunes audio books. Friends and Family are often curious as to what they can eat on the road. They are always asking, "What can I get at Chick fil a that is healthy" or "McDonalds". Well, let me just tell you this……the fast food industry IS trying to add healthy options to their menus. They may not sound as yummy as a fried chicken biscuit and bo rounds, but they are just as satisfying and will not make you feel sluggish the rest of the day. I personally do not like fast food. It grosses me out……all I can think about is how dirty the restaurants are, roaches running around in the back, hair in my food, etc. So, if you are still interested in eating fast food after thinking of those nasty things, here are a few options that I had while burnin' rubber.
Driving Day 1
Breakfast I was at home, so was able to make my usual breakfast: 1/2 cup oatmeal (made with water), 1 egg, 1 egg white-scrambled, and a chicken sausage Lunch and dinner Subway- 6 inch Turkey on honey oat with spinach, tomato, cucumber, pickles, mustard, and oregano ….NO cheese, I can never really taste it anyway (280 calories and 3.5 grams of fat) Baked lays (130 calories and 2 grams of fat) with my lunch and Packet of apples (35 calories and 0 grams of fat) with dinner
Driving Day 2
Breakfast Hampton Inn Free (:o)) hot breakfast- 1 hard boiled egg, 1 box raisin bran with some skim milk I grabbed an apple and fat free yogurt for later in the car when I got hungry Lunch McDonalds- Grilled Chicken Sandwich without Mayo (420 calories and 10 grams of fat) There was a little extra bun around the actual chicken breast, so I picked off some of the bun to save a few extra calories Dinner Taco Bell- 2 Fresco Chicken soft tacos- with 1 packet of hot sauce (340 calories and 8 grams of fat for TWO) If I had the choice to eat Chick fil a, here are a few options of what I would have eaten. Grilled Chicken Sandwich ( 290 calories and 4 grams of fat) and a fruit bowl (70 calories and 0 grams of fat) Southwest Chargrilled Salad (240 calories and 9 grams of fat) and medium Chicken noodle soup (140 calories and 4 grams of fat) AND…..if I am craving something sweet, I will indulge in a banana pudding milkshake! (ha, J/k…that has 780 calories and 24 grams of fat for a SMALL!) I will eat an IceDream cone which is only 170 calories and 4 grams of fat. Enjoy your meal while traveling and remember to keep your eyes on the road!