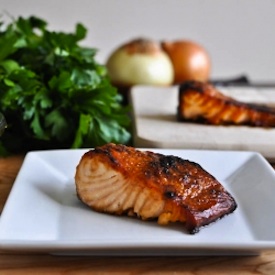 Quick, easy, healthy way to get your Omega 3's.  Enjoy this meal that only takes about 25 minutes for prep and cooking.
Crispy Bourbon Salmon
1 pound fresh salmon
1 tablespoon coarse sea salt
1/2 tablespoon black pepper
3/4 cup Jack Daniels or other bourbon
2/3 cup dark brown sugar
1 garlic clove, minced
1 teaspoon apple cider vinegar
1 tablespoon worcestershire sauce, low sodium
1 tablespoon honey
Combine the bourbon, sugar, garlic, honey, vinegar and worcestershire in a small saucepan and whisk. Heat over high heat. Bring to a boil. Reduce to a simmer and let simmer for 8-10 minutes, or until mixture reduces by about half. Pour mixture in a bowl and let sit at room temperature while the salmon cooks.
Preheat the broiler in your oven. Season Salmon with the coarse salt and pepper. Lay it on a non-stick baking sheet. Broil for about 5-6 minutes on each side, until the top develops a crispy crust.
Remove the salmon from the oven and brush it with the bourbon glaze.
Green Beans, Tomatoes, & Almonds
2 cups fresh green beans, remove ends
1/2 cup cherry tomatoes
1/4 cup sliced almonds
1/2 tsp garlic powder
Boil water in your steamer pot. Place cleaned green beans into pot and let cook for 4-5 minutes, then add the tomatoes. Sprinkle with 1/2 tsp garlic powder. Place green beans and tomatoes on plate and sprinkle with the almonds.
Facebook Comments
comments