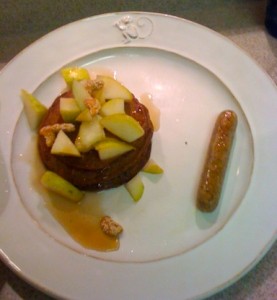 I got a little creative this morning with my breakfast. I was sick and tired of the same old scrambled eggs, oatmeal, and turkey bacon. Blah!!!! I eat that pretty much every single morning and I am sick and tired of it. I literally have to shovel the eggs into my mouth, otherwise I am choking them down. I came up with this new recipe from some of the things I had in my pantry.
Cocoa, Pear, Cashew Whole Wheat Pancakes:
Ingredients:
1 cup whole wheat pancake mix (i used Aunt Jamima)
1 cup skim milk (organic)
1 egg
1/2 tsp canola oil
2-3 Tbsp cocoa powder
1 small organic bartlett pear
20 honey sesame cashews (from my new found love, Trader Joes)
1 turkey sausage
Prepare:
Heat flat skillet on medium heat for about 5 minutes. Place turkey sausage on griddle if you are having this with the pancakes. While this is heating up, whisk together pancake mix, milk, egg, oil, and cocoa. Pour batter onto skillet and cook for about 5 minutes or until you start to see little bubbles popping through. Once you see the bubbles, flip pancakes and cook for another 5-7 minutes or until desired crispiness. Turn your sausage. Top 3 pancakes with 1/4 chopped up pear, 5 cashews, sugar free syrup. Serves 4. Enjoy!