A Little About BarBelles At Home….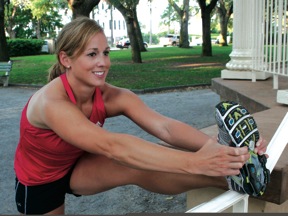 As the owner of Total Package Wellness, an in-home traveling personal training business, I quickly realized that I can only be so many places at once. Unfortunately, I am not superwoman and do not have extra special powers to teleport me from place to place. When I started running out of time to get from client to client, a new concept popped into my head and BarBelles At Home was created.
BarBelles At Home was created to help busy women find the time for realistic, butt kicking workouts that get the job done. In todays world, so many women are pushed for time from working long hours to raising children to going to school. I quickly realized that many women were intimidated by taking the first step on their own or they simply could not find the time to get dressed, drive to the gym, hire a personal trainer, and then workout. I took those steps out of the process and I am here as your own personal trainer to provide you with video workouts, healthy meals, eating out tips, and other fitness commentary. You have the benefits of a personal trainer without ever having to leave your home. I strive to help women achieve wellness of mind and body through fitness and a healthy lifestyle by providing education, motivation, and accountability.
A Little About Caroline……
I completed my undergraduate education at Auburn University (WAR EAGLE!) where I played lacrosse for all 4 years and captained the team my final two. I went on to earn my master's degree in Health, Exercise, and Sport Science at The Citadel, where as a graduate assistant I developed the Fitness Assessment Services Program. While working on my degree, I trained for and competed in several figure competitions including South Carolina State Competition, where I won first place, and Jr. USA's. Having to constantly be competing in something, I now enjoy plyometrics, weightlifting, running half marathons, spinning classes, and training in the Israeli self-defense system known as Krav Maga, where I am now in level 2. I have completed 5 half marathons. I am also a fitness model and contributor to fitness magazines.
When I am not working out, you can find me hanging out with my husband, cuddling with my sweet pup, catching up on the Kardashians and Millionaire Matchmaker, occasionally indulging in chocolate and Chick Fil A, laying out at the beach, and carving up some powder snowboarding.
I am just a normal girl who made it a point and found a way to make health and fitness a staple in my life. So I know you can do it to!
Favorite Quotes……
"You gain strength, courage and confidence by every experience in which you
really stop to look fear in the face. You are able to say to yourself, "I lived
through this horror. I can take the next thing that comes along." . . . You must
do the thing you think you cannot do".
~Eleanor Roosevelt
"Fitness has the ability to transform you not only physically, but in every aspect of your life"
~unknown
"You can't have excuses and results"
~my super smart husband, Patrick
"Positive Attitudes, no excuses, and smiles make me very happy"
~Caroline Sampson
"Life Begins at the end of your comfort zone"
~ unknown